Et voici la sortie du quatrième kit réalisé en collaboration avec toute l'équipe créative du forum C&S Digital. Il est bien entendu basé sur les fêtes de fin d'année. Comme l'idée de départ était de nous inspirer d'une photo d'où chacune puiserais sa propre palette, le kit est haut en couleur et varié.
Toutes parties confondues, le kit compte 1 alpha, 202 éléments, 104 papiers et 22 wordarts.
Here come the releasing of the fourth kit made in collaboration with all the creative team of the C&S Digital board. It's of course about seasons holidays. As the original idea was to get inspired by on picture where each of us will extract her own swach, the kit is highly colored and varieted.
All parts together, the kit count 1 alpha, 202 elements, 104 papers and 22 wordarts.
Ma partie /
My part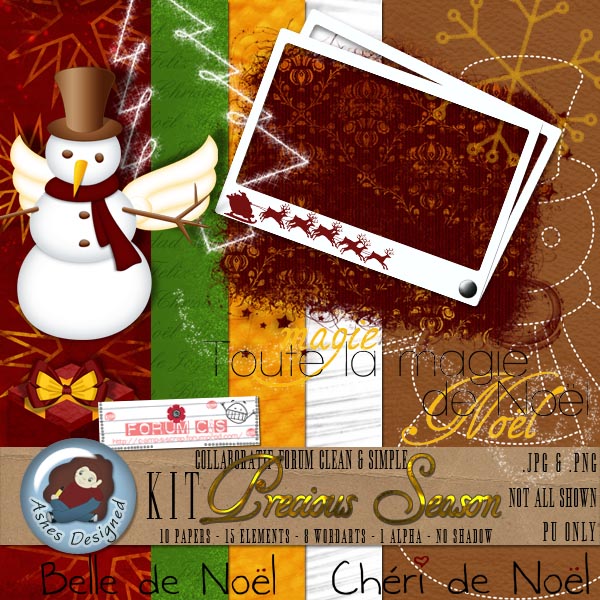 Mes pages et celle de ma merveilleuses CT
Template Miss vivi
Photo StockXchng
Template Miss Bubble
Photo Getty
Béa
Kirikou
Sanhizanne
Valkyrie
Vous pouvez trouver les parties des autres participantes aux adresse suivantes.
You can get the other parts at the following adresses.
Milie07 :
http://lecoindemilie07.blogspot.com
Titi1011 :
http://tit1011.blogspot.com
Jenny743 :
http://jenny743.blogspot.com
LeaUgoScrap :
http://lea-ugo-scrap.over-blog.com
Lau :
http://scrap-lau.blogspot.com
Elfyne :
http://lesloisirsdelfyne.blogspot.com
Kirikou :
http://kirikou91.over-blog.com
Sandrinette :
http://sandrinepassion.canalblog.com
Vavie :
http://vaviedesign.over-blog.com
Orkan (chez Vavie) :
http://vaviedesign.over-blog.com
Clara :
http://clarascraps.canalblog.com
Angélique :
http://angeliquedigidesign.blogspot.com
Isa :
http://scrapisa.blogspot.com/